Discussion Starter
·
#1
·
Today started out horrible, but i didn't realize how horrible it would be! I ended up forget my college paper so my professor said i had to email it to her as soon as i got home. So after class i had to rush to the hospital to check on my aunt, then i had planned to run home and email the paper to my professor...little did i know what was awaiting me in the parking lot of my college, until i saw it when i came out the hospital. SOMEONE HIT ME AND THEN LEFT WITHOUT GIVING ME ANY INFORMATION! MY tC WAS A VICTIM OF A
HIT AND RUN
!!!
It's horrible.
I cried forever before i called the cops. Then once i did they said that i would have to go back to my college and report it there. So i went back and then my college said since i left the scene without calling them (I had NO IDEA that someone hit me...) that now they couldnt give me a police report!
Everyone just seemed to screw me over today.
When i got home my paper was already 3 hours late, but i sent it anyway. And the insurance company said they will send out a guy to give me an estimate on Monday. But i have to pay the $500 deductable...and i am like so broke right now. I have to pay my car payment, plus my credit card bill, plus my niece's sweet 16th bday gift and now on top of all that i have to come up with 500 dollars!!! But my parents said they would help me out but i have to pay them back. IT JUST SUCKS!!!
It always has to happen to someone with a brand new car...but hopefully she'll get fixed quick bc i hate driving around with a huge dent in my car. It makes me so sad.
Here's a few quick shots of my baby's damage....
EDIT: Yesterday I got my bumper fixed. Here's a few quick night shots of the new bumper. I'll take more in the morning so oyu can see how well they matched the paint. It only took like 4 hours for them to do my car and now it looks like it is new again....minus the dirt from the snow fall.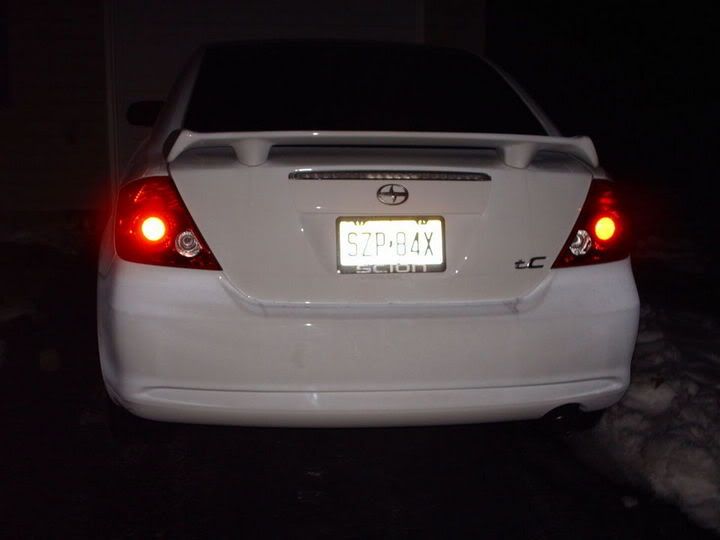 p.s. she is real dirty from the snow and the paint job does match even though from the pics it looks gross. lol