Discussion Starter
·
#1
·
So as I'm sure you all know, we have a bit of an intake heatsoak issue with the tC. Cramped quarters, hood insulation-- that's stuff I can't do much about. Some of you may have read about my initial step in bringing temps down: removing the stubby plastic pipe from the airbox inlet, and replacing it with 3" flexible tubing that extends down to the false-grille opening in the bumper. Of course, that helped a great deal. That was "Stage 1".
But I noticed that the heatsoak was still a problem-- for while cruising IAT had dropped 10 degrees or more, even 2 minutes at idle would push temps to 30º or more above ambient. Stage 2 eliminated the resonator box, and replaced the OEM paper filter with a K&N filtercharger. Again, good progress-- temps were slower to rise, and quicker to fall toward ambient once the vehicle started moving.
But I was noticing that long idling periods, say anything beyond 5 minutes, would heatsoak the parts enough as to leave the IAT 10-15º above ambient for a noticeably long period of time. In many cases, it would take as long as 10 minutes of driving to cool the parts down. I noted that the temp of the airbox, even after idling in hot weather, would not be as hot to the touch as any of the parts around it-- the thin ABS from which it is constructed don't hold much heat.
But the OEM upper piping... nice big, thick rubber tube-- is like a heatsink. After a drive to a few stores and back home (about 15 miles total), then leaving the car parked for around 30 minutes, the temp on the surface of the upper piping was over 100º-- even though the ambient temp was in the low 70s. So I had found the culprit.
Fortunately, Spectre had just come out with their "Poweradder" modular intake system, and the design seemed to fit the bill just perfectly. Sure enough, about $50 worth of parts, and the GFI Stage 3 is complete.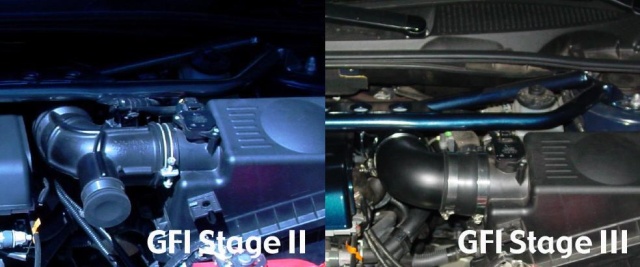 Results
: Cruise temps remain 1-3º above ambient. Heatsoak is
extremely
slow to set in. Five minutes at idle will result in only a 5-7º increase. I drove it somewhat aggressively up to the store, where it sat parked for about 20 minutes. On my return, IAT was 112º-- a staggering 40º above the ambient (72º for those who don't like math.
). My first thought was, "Crap. I've wasted time and money... again."
I'm happy to report that I was too quick to judge. The first tip in on the throttle ingested the "settled" air-- IAT dropped to 96º immediately, then to 85º by the time I shifted into 2nd gear. By the time I reached the parking lot exit, IAT showed 76º. My mind was blown a little, I must say.
The GFI as it sits now has run me about $125, I'd guess. Sure, some may argue that's getting into the territory of a CAI or SRI... but that's not the issue. The SRI draws air from a horrible place. The CAIs draw it from about 10" lower than the OEM intake, so that's not much better. I wanted truly cold air (brought in from outside the engine bay), and I wanted to combat heatsoak as much as humanly possible.
Well, that went on far too long, considering how few pictures there were.