Discussion Starter
·
#1
·
Okay, I took some shots today after getting my '05 SSM 5MT washed at Oakley's; remember you can click on the pics to zoom in!.
Here's a recap of what's on my whip:
Ace Manta wheels,
17x7.0 +35 in hyper dark
Avon Tech M550 tires, 215/45ZR17
Wilwood front big brake kit (part # 140-9013)
Wilwood stainless steel braided front brake lines
TRD short throw shifter
H&R coilover suspension
Hotchkis front and rear antisway bars
Hotchkis front strut tower tie bar
Hotchkis rear camber links
Umnitza carbon-fiber short ram intake
Scion/factory ground effects kit
Grill Craft black mesh grills
(one piece top and one piece bottom; two lower corner pieces don't fit due to lip kit
)
HIDretro.com hand retrofitted custom headlamps
(with spray-tinted amber side markers, BMW 3-series bi-xenon projectors, ballasts & bulbs and 5-series angel eyes with super white LED lighting and custom-made shrouds)
Gauge pod and center console LEDs swapped for white & red
Alta Performance Mini Cooper billet shorty antenna
(sticker removed)
TYC LED tail lamps
Silverstar bulbs
for high beams
De-badged rear tC emblem
tC emblems on flanks
Custom Vanity, "Conserve Habitat,"
New York State license plates reading, "EDDNOG."
Weathertech ClearCover
license plate covers
Dr. Isotope's ABS plastic radiator air deflector
(sorry, no pics of this yet)
TWM Bombshell shift knob in flat black
Before delving into the new pics, here's a recap of some older pics showing my intake (Dr. Isotope's reflector shield was not yet installed):
Also a recap of the dash pics:

Only the dials were changed to white; the rest of the warning indicators etc. were left stock.
The second leftside amber LED on temperature dial was swapped for a blue LED, so now the temp gauge's blue portion is longer.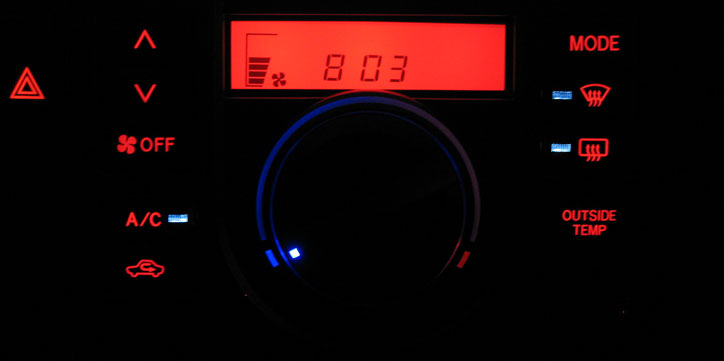 The super white LEDs for status indicator are brighter than they look in the photo (polarized for the driver angle, but pic shot straight on); I can cearly see them in day time when the lights are turned off and they get even brighter!
Finally here are the new pics:
If you're wondering why I changed wheels again, it's because the tires were rubbing on the Profils (18x8.5 +40 will do that to you when you upgrade the brakes, pushing the wheels even farther out, and sitting dropped on TRD springs). Also, I wanted wheels that look like these from the very start, but before the brakes came in I had many concerns about fitment so I bought those 18s thinking the stock wheels wouldn't fit. When I found out the stock wheels
did
fit the brakes, I swapped back to fix the rubbing until I bought some wheels that I
really
liked, knowing that fitment wasn't as tight as I thought. I found a shop in NJ that carried these and offered to test fit for rubbing before charging me, so I went for it and it was the best move. They look
perfect
(to me, which is who matters most) and fit perfect with no rubbing!
Mods that I am waiting on:
Precision Brakes custom-fabbed Wilwood rear big brake kit
with forged Dynalite 4-piston calipers and 12.9" SRP rotors (PBC says they're almost done and should have this shipping out within two to three weeks)
Wilwood stainless steel braided rear brake lines
TWM Bombshell shift knob
in satin finish
Spray tint the amber and red reflectors inside my TYC LED tail lamps (also will be done by HIDretro.com)
Mods I may do when these are already paid off:
TRD supercharger (if Toyota and the ECU manufacturer ever get their issues resolved so they can finally start selling these!)
NST pulley swap for TRD's tC supercharger
Various other NST pulley swaps
Fidanza lightweight flywheel
Clutch Masters FX200 clutch
Creative Compacts stainless steel high-flow S-pipe
Creative Compacts full stainless steel exhaust kit
(with resonator, high-flow cat and Magnaflow muffler).
================================================================================
=====
Alright, I got around to shooting day pics of my new lights and grills. My apologies for the glare; it seems my car is a bit too shiny.
The new headlamps are custom retrofit of BMW 5-series angel-eye halos, BMW 3-series HID projectors, bulbs and ballasts, custom hand-made shrouds and spray-tinted side marker lenses.
The new grills are Grill Craft black mesh upper and lower; I ordered the three-piece for the bottom but it appears the lip kit interferes and they were unable to install the corner pieces for me.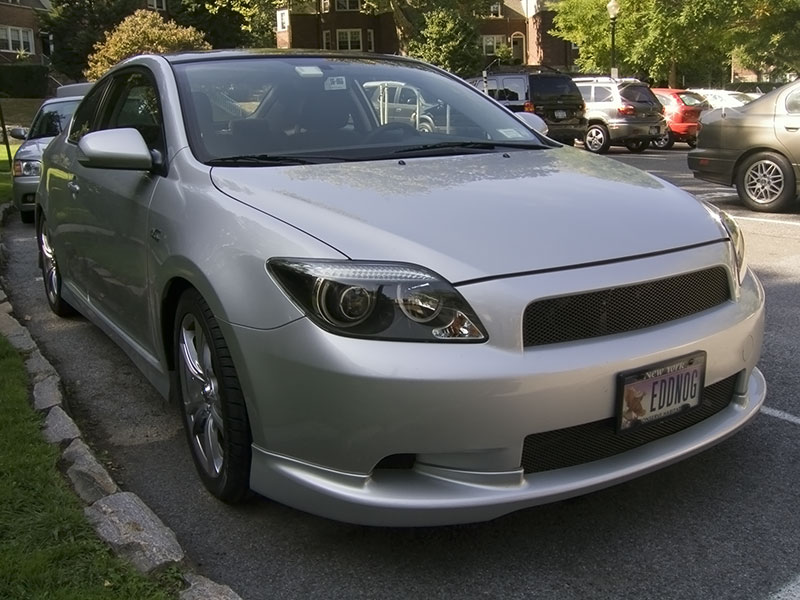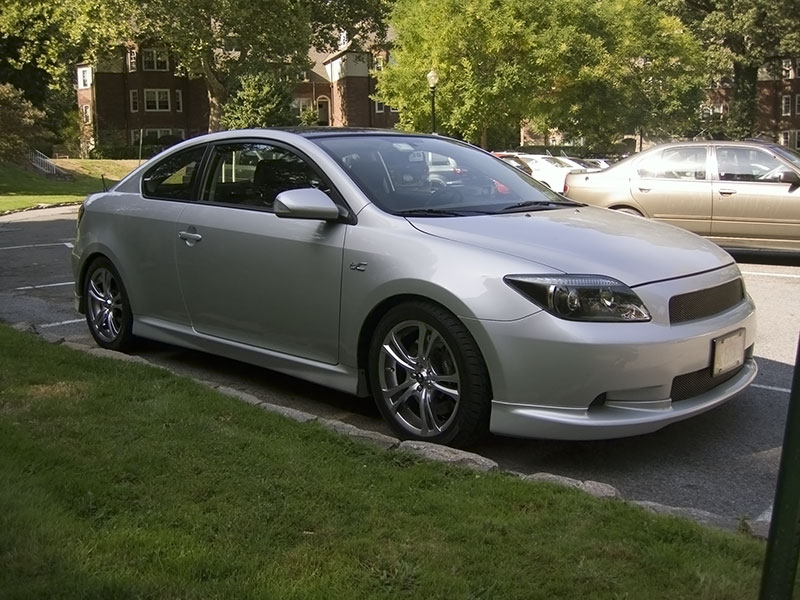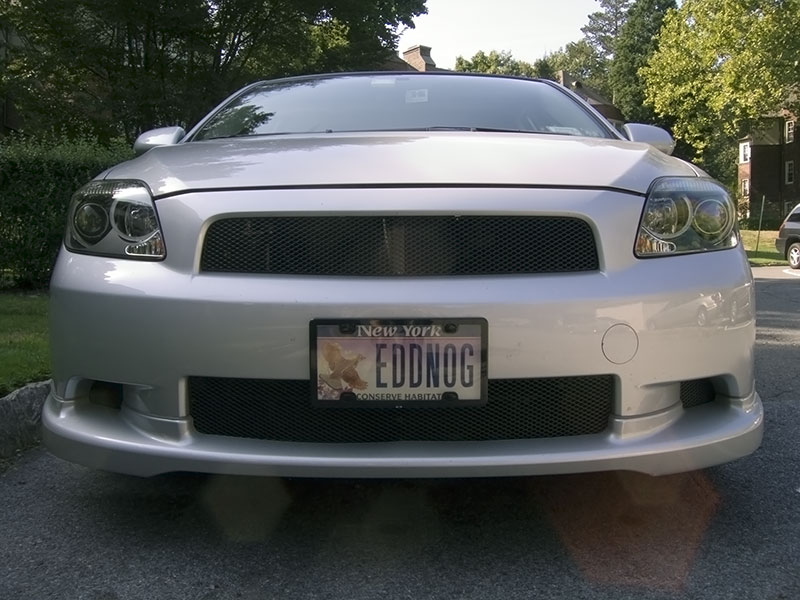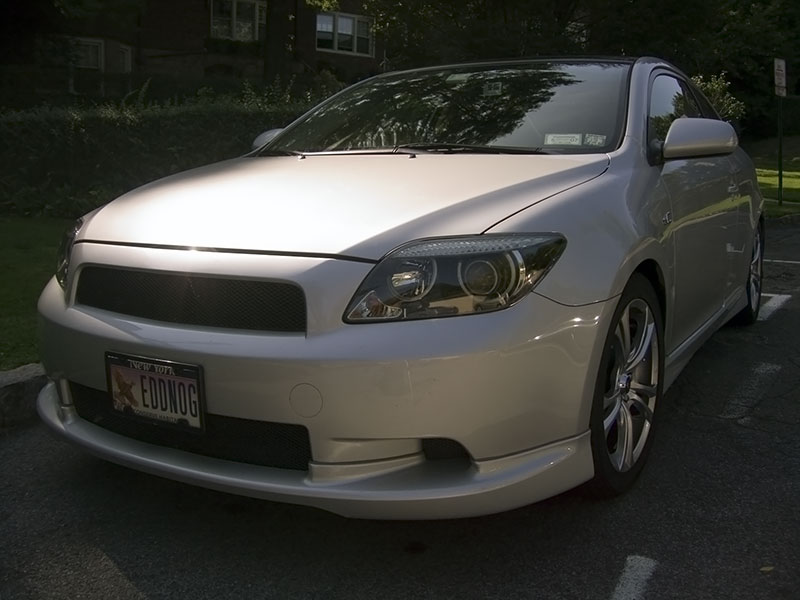 I plan to replace the amber front signal bulbs with chrome-plated bulbs that only turn amber when lit. The rear tail lamps will receive similar treatment with the amber and red reflectors spray tinted, but I have yet to decide whether to send out the pair I have or to order a second pair and then swap them in later.
Here're the dusk and night time shots including cut-off pics: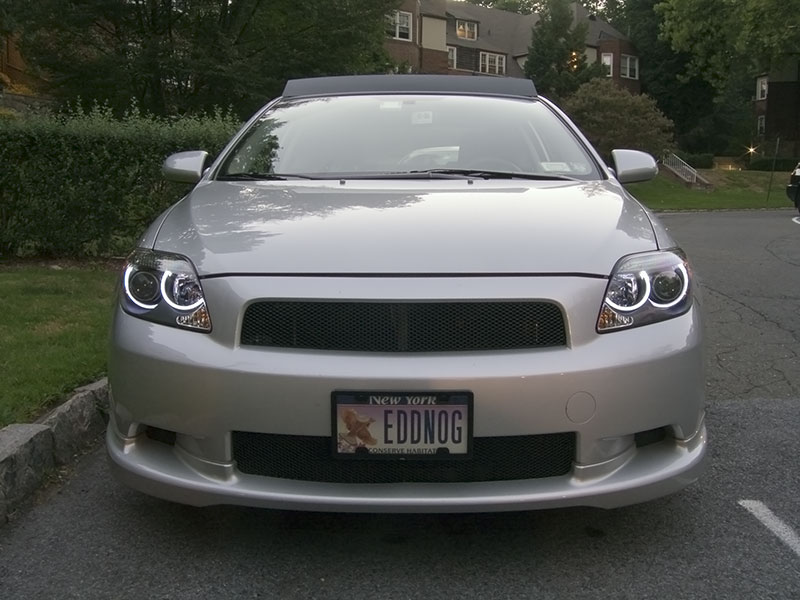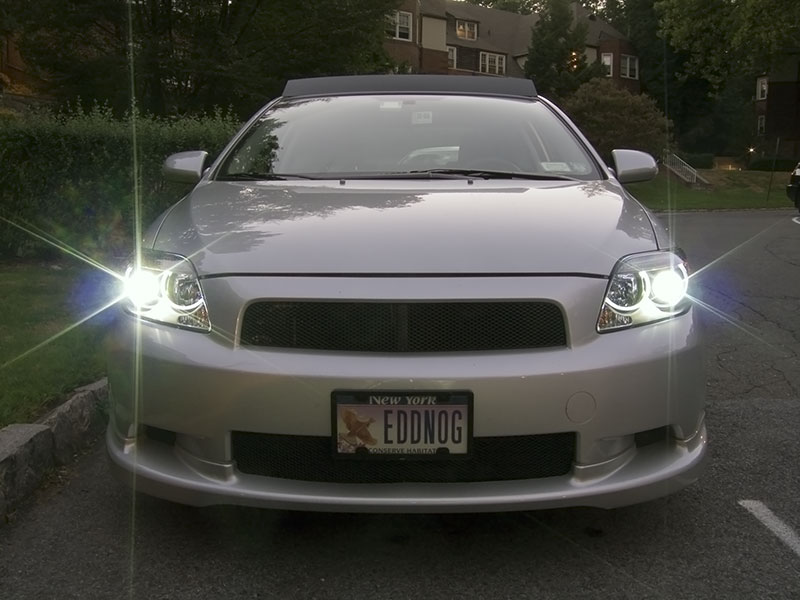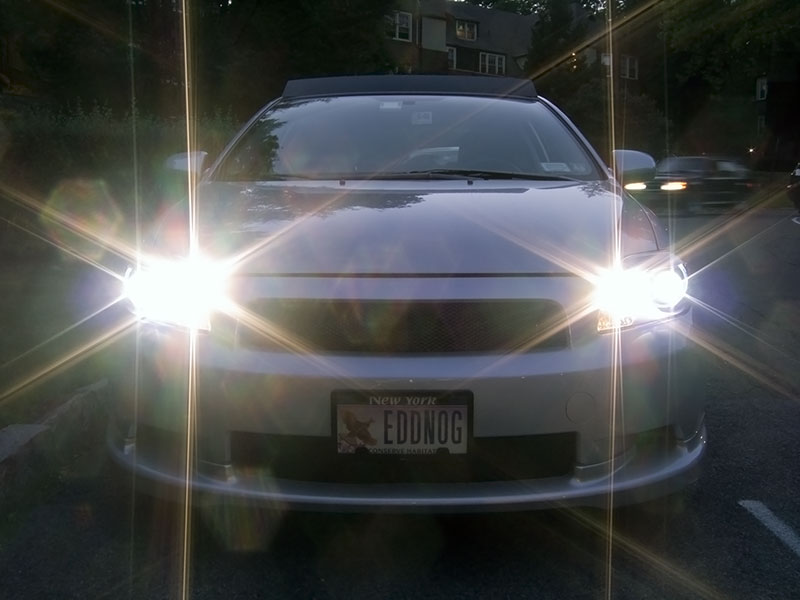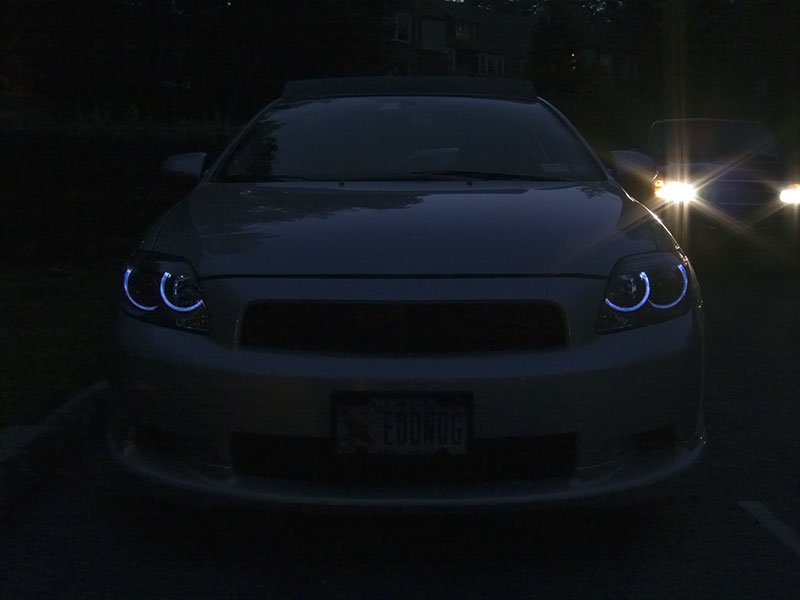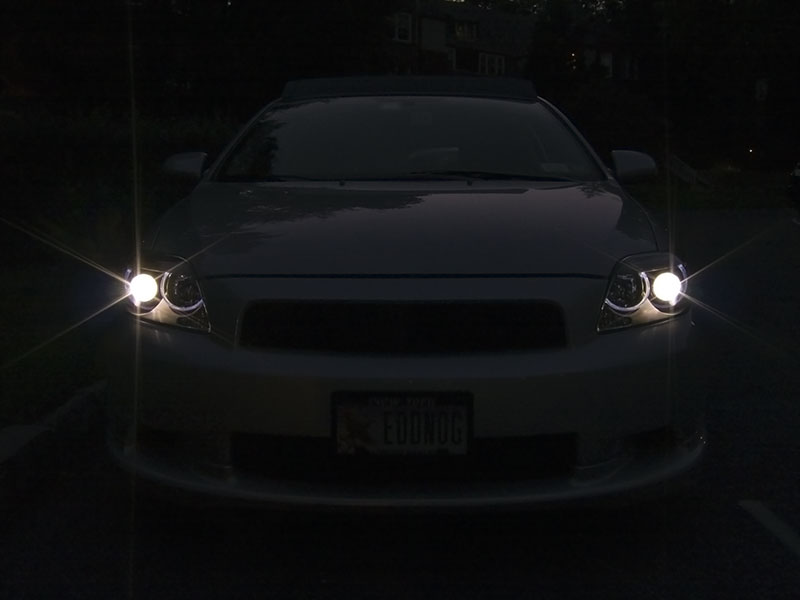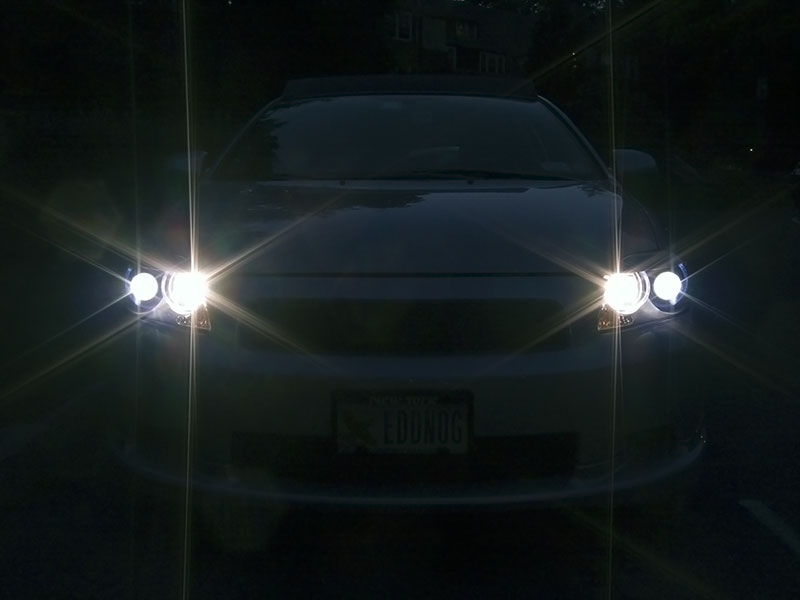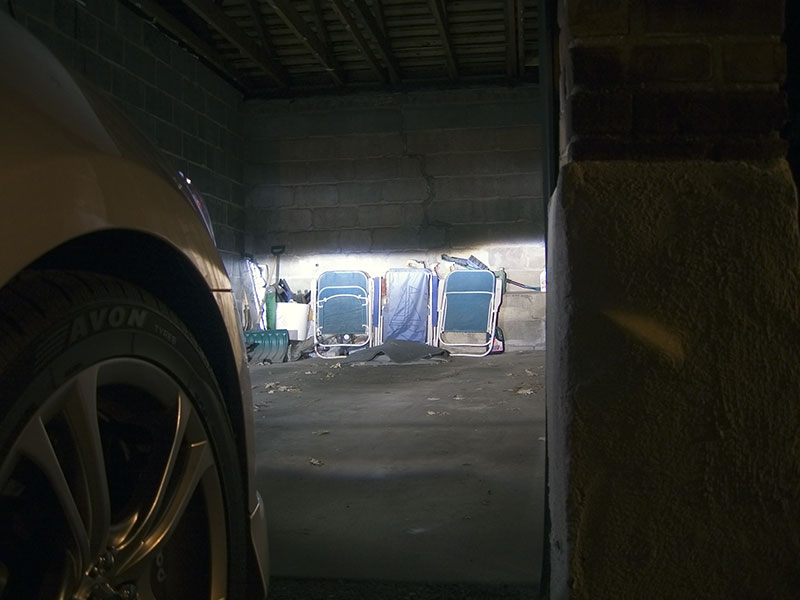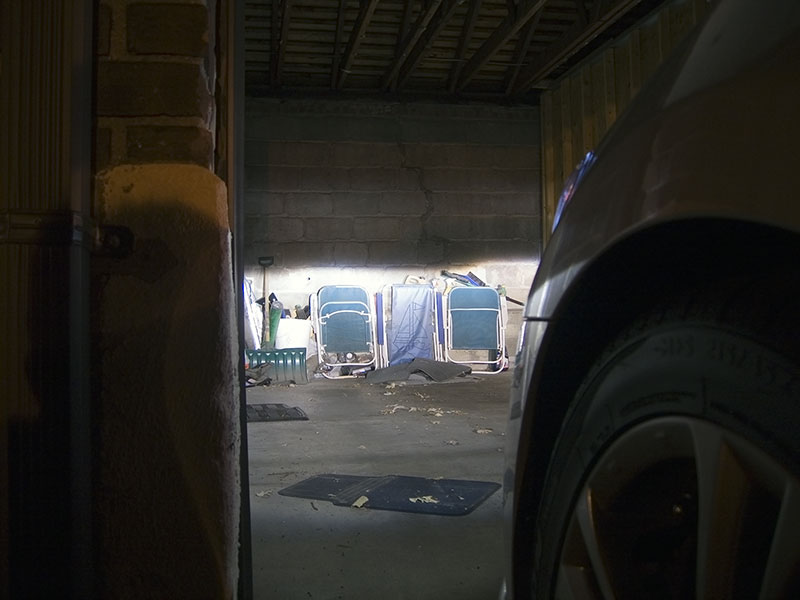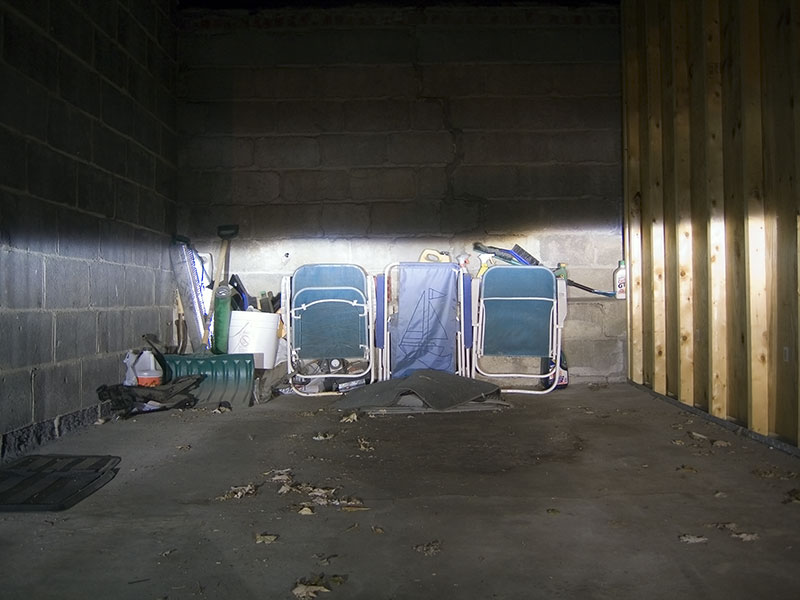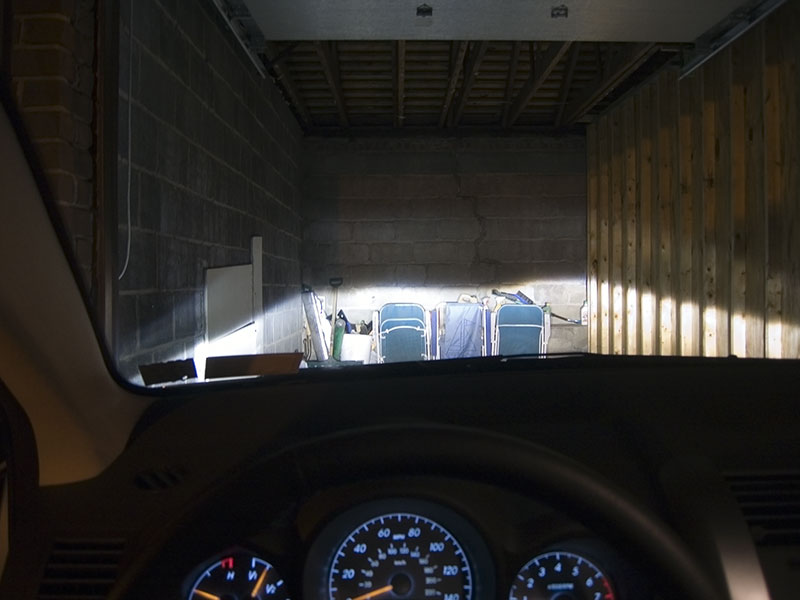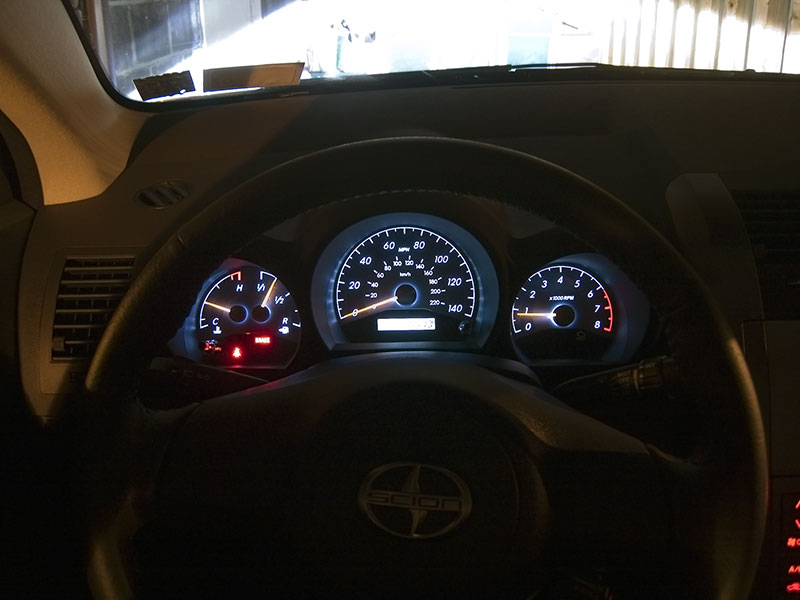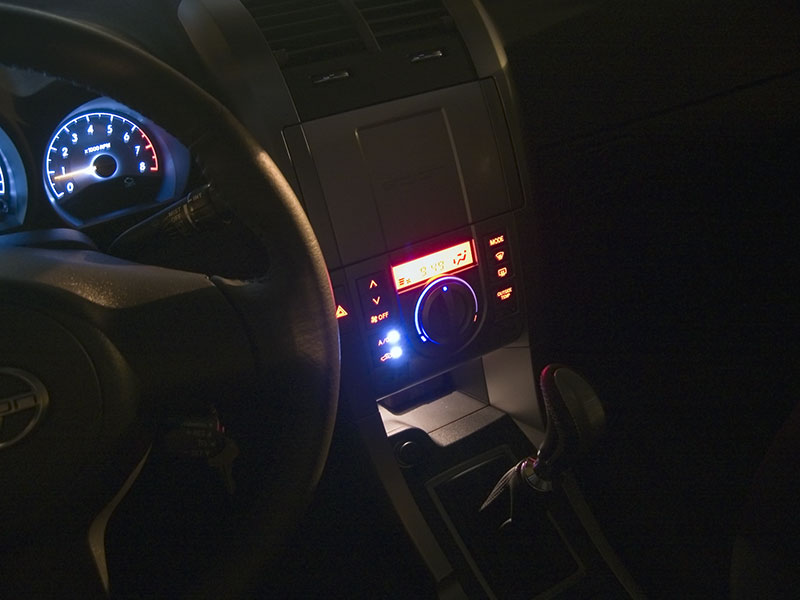 -Ed
EDIT: Here's how it looks now after the tail overlays: