Discussion Starter
·
#1
·
okay, so around noon i get a call from my dad to come out to the garage. i come out and some bastard spray painted on the garage door and busted the window to our pick up we keep out there. the thing is this is all petty #### and they had no intention to steal anything, but they cracked the passenger side window of the pick up..
well my question is, the audio sensor on the Viper alarms claim to go off when your glass is tampered with.. and have read that glass braking has a certain sound that well trigger the alarm. the thing is, what if the glass hasn't been fully broken and just cracked? will it pick up the sound?
the reason i ask is because our garage already has two cars in it, which is why the pick up is parked on the driveway right behind the garage. along with that, my tC unfortunatly is also parked outside. not in the back, but in front of our front door. (we have this odd spot.. i'll take a pic of it soon to give a better idea..) but anyways, it's still outside, and obviously belongs to our household in the spot it's in (whoever busted the window seems to have targeted our house..).. just want to know if somethin like what happened to the window to the pickup happens to my tc (God forbid) will the alarm trigger?
edit with a couple pics..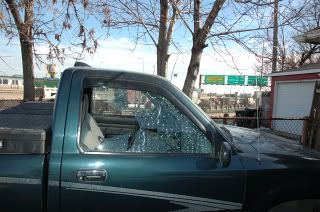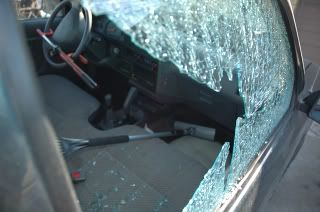 that's what they did. the thing is that the window was intact when we got out there. just the cracks that spiderwebbed all over it. seemed like they used one of those emergency glass braker things (the actual term seems to slip my mind at the moment) so the window never really broke/shattered.. the wind took care of the rest and pushed the window in.. but yeah, that's what i was tryin to explain earlier.